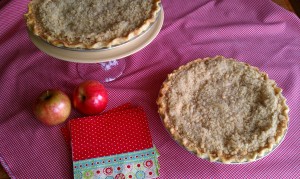 A few weeks ago a friend asked me if I would be willing to bake a special request pie; Dutch apple.  Of course I would!  I began researching into which recipe to use.  The question on my mind:  what makes and apple pie a Dutch apple pie?
  Originally, I thought that Dutch apple meant a crumb topping instead of a double crust.  No problem, right?  Well, when I looked a little bit further I discovered double crusts, crumb tops, lattice crusts; all calling themselves: Dutch apple pie. 
  A handful of  Dutch apple pie recipes also called for sour cream in the filling.  So was this what made Dutch apple pie- Dutch?  I really don't think so.  Some had sour cream, others did not. 
  I thought about just asking the bride-to-be, who had made the request, to tell me exactly what her tastebuds were longing, but didn't want to give the "clueless" and therefore" incompetent" impression.  I realized by the Friday night before the bridal shower (where Maisy's Dutch Apple Pie was set to debute) that it was up to me to decide just what "Maisy's Dutch Apple Pie" was going to be.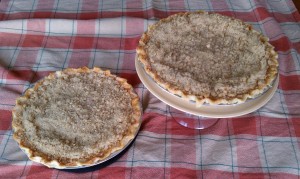 First off, Maisy's pie would have a crumb topping.  Oatmeal or no oatmeal?  That was the question.  I like oatmeal in my topping; especially in a good apple crisp.  But, I wasn't making apple crisp, was I! didn't want Maisy's Dutch apple to disappoint because it tasted too much like another dessert entirely!  In the end, I nixed the oatmeal.  Phew!  All that was left was the filling.
  Dwight recommended that we stick to what worked and use our original apple pie filling.  I agreed with his logic, but was intrigued by the addition of sour cream.  As I had to work Friday night,  Dwight threw the recipe tester together while I was gone.  I walked in the door at midnight to a perfectly warm Dutch Apple Pie.
  Mmmm, I loved it!  As I was savoring the last bite, Dwight came back down the stairs.  "So what do you think?"  he asked, his nose wrinkled in dislike.  I didn't even notice.  "I love it!" I stated emphatically.  "You do?!"
  Dwight likes to eat what he knows.  He doesn't know Chinese food, he doesn't know casseroles, and he doesn't know Dutch Apple Pie.  But, he lost out on this one; we went with the new recipe.  Ellynne and Madelyn liked it, Josh doesn't know Dutch Apple Pie either…
  Saturday morning I made the new recipe times two.  I boxed them up warm and sent them on their way.  I think they were well received, based on my Facebook feedback, but tell me, what does Dutch Apple Pie mean to you?  I'm curious to know what those of you who have been enjoying it out there, have to say…