I love thumbing through cookbooks!  A couple weeks ago, my Aunt Mary happened to mention a little church cookbook that had belonged to my Grandma.  "The one with Grandma Van'thof's peanut butter cookies?"  I asked.  The very one.  She brought it over to me that weekend.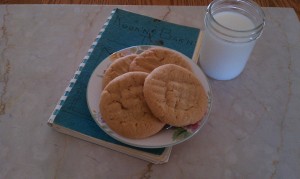 "Kook'n & Bak'n Time,"  was one of maybe three cookbooks in my mom's drawer, when I was growing up.  It has been so much fun getting reaquainted with it!  There is not a publishing date in it anywhere, my best estimate therefore, is that it's about 40 years old.  (I don't like to think  of myself as being vintage, but this cookbook certainly is!)
When I first opened it, I couldn't help but notice that one dear lady had submitted oodles of recipes.  "Mrs. Jones* must have been a wonderful cook!"  I mused.  "Was she on the cookbook committee?"  Dwight asked.  "Umm, yes, she was…"  Smile.  ( * cook's name has been changed for this post)
The book is filled with cooks with names like,  Gertrude, Marjorie, Mabel, Mildred, and Mattie.   Ladies, who I have known all my life, with names I thought had forgotten.  Some are still cooking,   a few a cared for in the nursing home,  many have been gone for many years already. Today, their great-grandchildren are being named after them.  There is no rhyme or reason to what they called themselves.  Elsie Smith, Mrs. Andrew Jones, Mrs. B. Potts, Miss Annabelle Green… obviously none of my examples would ever show up in an old Dutch cookbook- but you get the idea, right?! -a smattering of everything!
The recipe titles are equally as intriguing.  "None Better Brownies,"  "Duke of Naples Casserole,"  "Hot Dish,", and my personal favorite, "Oven Dinner."  Nothing flowery, simple, basic, let's ya know exactly what you'll be eatin'- well sort of…
As I was rifling through, I discovered a recipe called "Chicken, Baked,"  that I have been making for 21 years (give or take)  I never knew it was   in this particular book.  It's easy and delicious- I'll share it with you at the end of this post.  I also found some of the dishes that my mom used to make when I was a picky little eater.  Maybe I should see what my kids think about, "Chicken A' la King," and "Creamed Tuna on Toast,"…
There are many recipes that were submitted by, "A Friend."  Don't you just want to know who this mystery chef was?   Was she shy about her cooking abilities?  Is she still out there cooking?  I tried out her "Raisin Buns,"  they were yummy-  with a half cup of butter per batch; what's not to like?
I think that the best part of this wonderful little gift, is the notes that my grandma added.  "Pulp" is crossed out on page 135, and "pop" has been added in its place.  "Lemon meringue pie," on page 123 has the word "rounding," scripted in to the 4T. of cornstarch.  I ate that lemon meringue pie many times- if she thought that the tablespoons should be rounded; I will certainly round them.  I imagine her, in her apron, cookbook open on the counter, back in her kitchen on Webster Street.  The memory makes me smile even as my eyes mist up….
Chicken, Baked, (what follows is an updated recipe)
3lbs. of chicken pieces
2/3 cup of Bisquick
1 tablespoon butter
11/4 teaspoons salt
1 1/2 tesaspoons paprika
1/4 teaspoon salt
Heat oven to 425
Melt butter in 13x9x2 in oven
Mix bisquick, s & p, paprika together and coat chicken
Place chicken skin side down in hot butter and bake 35 minuets, turn and bake another 15 minuets.
Enjoy!
Nutrition facts:
Just plain tasty!