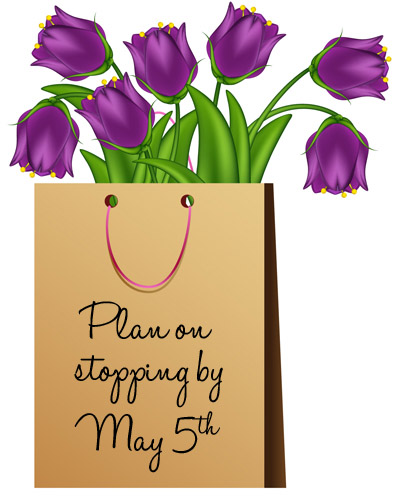 Wow! We're already one third of the way through March! Back before Christmas, I hatched a plan that I'd like to share with you. On May 5th, I'm planning an event at my house called a Mother's Day Mixer.
Here are the details. We're planning a sale. It's going to be from 9am Saturday morning until 4pm that afternoon. There will be cut flowers for your spring tables, handmade gifts and accessories from several different entrepreneurs, antiques, and my personal favorite — brunch!
I've got a lot of work to do to pull this all together, but doesn't it sound like fun!? During the next few weeks, I'll be showcasing the different vendors for you as well as some of the things that will be available for you to buy. At the same time you'll be able to order your Mother's Day desserts for the following week, as well as take home Sunday dinner pies!
There will be free gifts for everyone and a drawing for a summer pedicure! (That in itself would have me scurrying to RSVP!) I will be organizing an event on FB to make RSVPing simple for you. It will also help me know how many of you I should plan on for brunch.
I love getting out once in a while with a friend, (or a daughter these days) to find a unique shopping experience. If this turns out to be a success, I'd like to try it again in the fall and maybe before Christmas.
So mark your calendars for May 5, and start saving! Let me know if you have any questions for me!