I made Chicken Faijitas tonight for supper and thought you might like to try them.  I have been making this recipe for over 20 years; I got it from an insert in a package of Aztec tortillas.  Actually the original recipe went missing a few years ago already, but I pretty much know it by heart.  It's fairly quick and easy; give it a try and tell me what you think.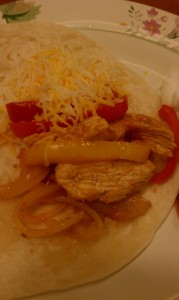 Chicken Faijitas
4-5 boneless, skinless chicken breasts; cut into strips
1/4 c. lime juice
1/4 t. ground cumin
1/4 t. ground red pepper
2-3 T olive oil for cooking
1 green, red, and yellow bell pepper; cut into strips
1 sweet onion, cut into strips
1/4 c. salsa
Place the cut up chicken strips into a Ziploc bag with the spices, minced garlic,  and lime juice.  Allow mixture to marinate inthe refrigerator for 2 hours or more.  Once marinated, cook the chicken in a frying pan in olive oil until pieces are no longer pink.  Remove chicken to a warm platter.  Cook the onion and pepper strips in the frying pan until tender crisp.  Return the chicken to the pan with the peppers and onions and add salsa.  Mix the salsa throughout the chicken and vegetables.  Warm tortillas according to package directions.  Serve faijitas with shredded cheese, sour cream, and additional salsa.
What kind of pie would compliment Chicken Faijitas?! ; )