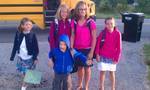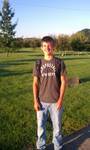 Wow!  First day of school- summer's over.  Where did the time go?   We began the year with our usual flare for organization and punctuality.  Kate got up early to try to finish the summer packet from her second grade teacher.  As I sat quietly sipping tea on a stool next to her, she reviewed the finer points of grammar. "Mom, what's a plural noun?' Ugh.
  Julia hopped out of bed shortly before 7am, requesting French braids.  "Oh, and can you wrap Audrey's birthday present for me?  Naomi tried to open it Saturday night, so it's a little floppy."  Of course.
  I went up to wake to boys.  "C'mon boys -time to get up!"  No movement whatsoever.  Their room looked like Irene had been there and gone.  I began rifling through the rubble trying to find something clean, free of holes, and long enough to cover Sam's ankles for his first day of kindergarten.  "Sam, wake up it's time for school!" I shook his ankle.  Nothing.  His drawer was full of bright white, clean underwear- nothing else.  "Sam!  I have your clothes laid out here on the bed for you, it's time to wake up!"  Suddenly, he sprang to life, "I want to wear my fish shirt with those black pants up in the closet!"  " I can't find your fish shirt, maybe you can wear it tomorrow?" I suggested, weakly.  He climbed up the closet shelving and pulled a few more items of clothing onto the floor.  "Oh, look Char!  This shirt looks like your size!"  Wonderful. 
  I left to go wrap the present, but noticed on my way down the stairs that Sam had decided to wear the clothes I'd laid out after all.  "I don't have any jeans that fit me!"  Charlie called after me.  He does, he just can't find them in the midst of Irene's debris.  I said nothing.
  Back downstairs, I began wrapping and braiding.  Breakfast eaten, teeth brushed, snacks packed, I was finishing the last braid by 7:50am.  Josh was just finishing his shower at this point and realizing that he was going to have to drive himself if he wanted breakfast.  Ellynne came down to see Sam off on his first day.  He hugged her and told her he loved her.  (She needed that.)  Naomi was ready to see everyone off,  sporting a pink t-shirt with a chocolate stain and a hole, her periwinkle capris, and the same biffed little bob she's had all summer.  "Aren't you cold, Naomi?"  I asked.  "I got this wittle baby sweeping bag!"  she replied, wrapping herself in the changing pad from her old diaper bag.  Whatever works, right?
  Dwight snapped a picture,  and everyone scurried onto the bus.  I started to tear up,  thinking of that tiny baby boy I brought home from the hospital nearly 6 years ago; I don't think I'll ever become emotionally immune to these special days. 
  I should have the place up to snuff in no time…